The following is a guest post by Robert K. Wallace, Regents Professor of English at Northern Kentucky University, discussing his book-length blog project Dickinson and Moby-Dick in 2015. We encourage DEA readers to explore Professor Wallace's work, and we invite discussion of it in our forums.
---
I am grateful to Martha Nell Smith and Marta Werner for inviting me to post this blog on the Dickinson Electronic Archives.  I am not a Dickinson scholar.  I am entering the Amherst Mansion through the back door, as it were, but I am very happy to be here.  Since many distinguished 19th century visitors were entertained at the Evergreens, I hope you will look kindly upon my traveling companion for this inland voyage, Herman Melville.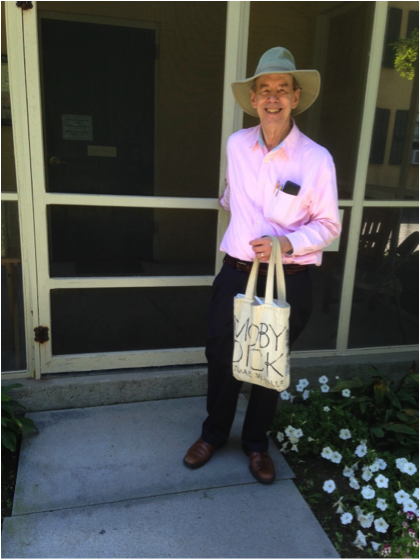 Although much of my scholarship is on Melville, especially in relation to the arts, Dickinson has become an equal partner in my teaching, also in relation to the arts.  Beginning in the 1980s, I had been teaching Emily Dickinson in a paired course with Henry James.  After 9/11, during the 2001 Fall Semester class, many of my students began to respond to Dickinson much more deeply than to James. 
Kimberly Estey, Dickinson Homestead Panorama, final project for Dickinson & James class, Spring Semester 2010
This trend became so pronounced during my James and Dickinson course in the 2011 Fall Semester, that I put Henry in hibernation and began teaching my first all-Emily course: Dickinson and the Arts.  This course parallels those in Melville and the Arts that I began teaching in 1992.   The deepests links between them is the artworks which students have created as their final projects in each course.  After Camilla Asplen and several of her classmates created truly striking artworks inspired by Dickinson during the 2001 Fall Semester, I have given students in my subsequent Dickinson classes the option of doing the same.  By the end of the 2014 Spring Semester, students in those classes had created a quantity of quality artworks sufficient to merit the exhibition of Emily Dickinson art which opened at Northern Kentucky University in February 2015, soon followed by the exhibition Moby-Dick art at the Covington Public Library in April.  The planning and execution of these two exhibitions, and of the Arts Fest programming that accompanied each one, is the primary subject of this blog.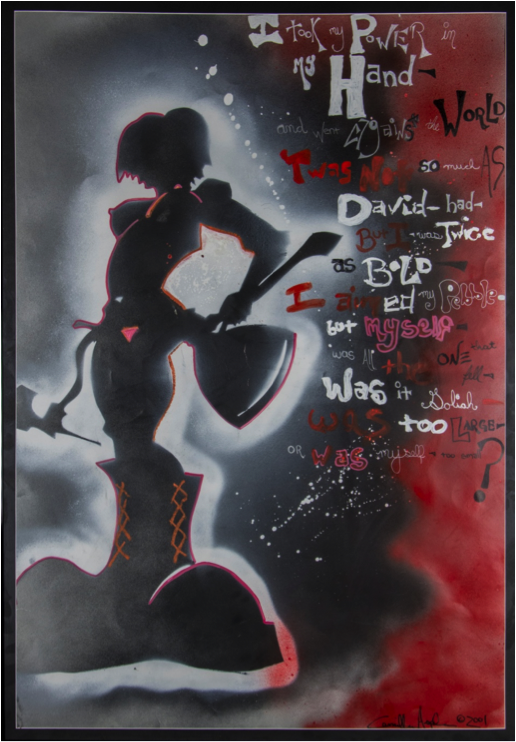 Camilla Asplen, I took my Power in my Hand, final project for Dickinson & James class, Fall Semester 2001
My equal partner in planning and installing both the Dickinson and Moby-Dick exhibitions was Emma Rose Thompson, a BFA Art History major at Northern Kentucky University.  She was a student in my Spring 2013 class in Moby-Dick and the Arts, but had no significant exposure to Dickinson's life or poetry before agreeing to join me as co-curator of the Dickinson exhibition as well as the Moby-Dick one.  She was also my co-curator in creating our full-color catalog for each show, each of which she designed in InDesign.  Because Emma Rose had never studied Dickinson in any depth, it was fascinating to see what she learned about the poet and her work by helping me choose the 40 artworks by 39 student artists we selected for the show and reproduced in our catalog.  She was deeply impressed by the artist statements these students had written.   She designed the catalog so that each student's artist statement could be printed in full along with a short bio,  my photo of the student presenting the artwork to his or her classmates, and the professional photo we commissioned for each artwork.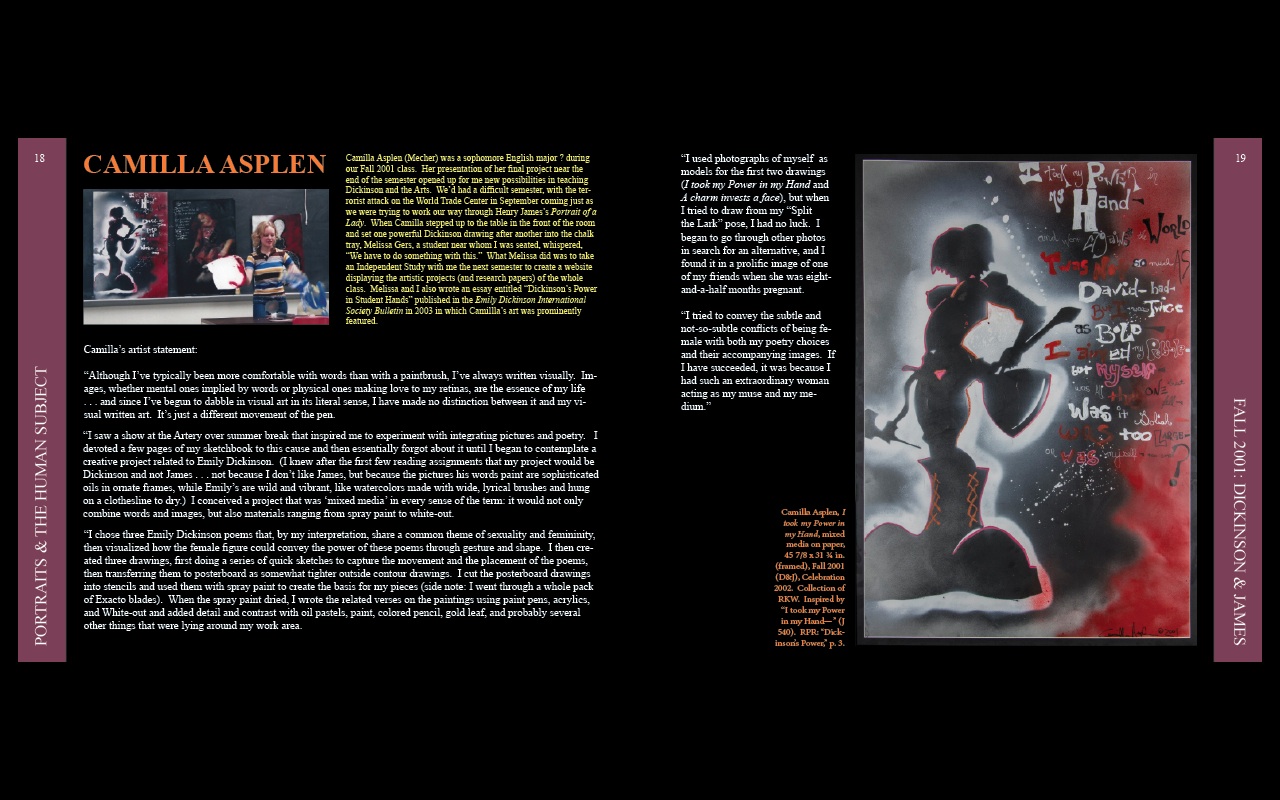 In addition to documenting the planning and execution of the Dickinson and Moby-Dick exhibitions and catalogs, this blog gives extensive coverage to the Arts Fest events that accompanied each exhibition.  Full coverage of the Emily Dickinson Arts Fest is found in Part 3 of this blog.  There you will find detailed accounts of the installation of the exhibition, the joint presentation by Kathleen Piercefield and Claire Illouz of new Dickinson artworks, the two-day Marathon Reading from the Johnson edition of the Complete Poems, the recital of Dickinson songs performed by soprano Kimberly Gelbwasser and pianist Ingrid Keller, the Art Walk and panel discussion featuring the Student Artists, and the Emily Dickinson Tea Party that closed the Fest.   My narrative accounts of all of these events are augmented by numerous photographs and by live recordings of the presentations by Piercefield and Illouz and of the song recital by Gelbwasser and Keller.  The 4-day Moby-Dick Arts Fest is similarly documented in Part 5 of the blog.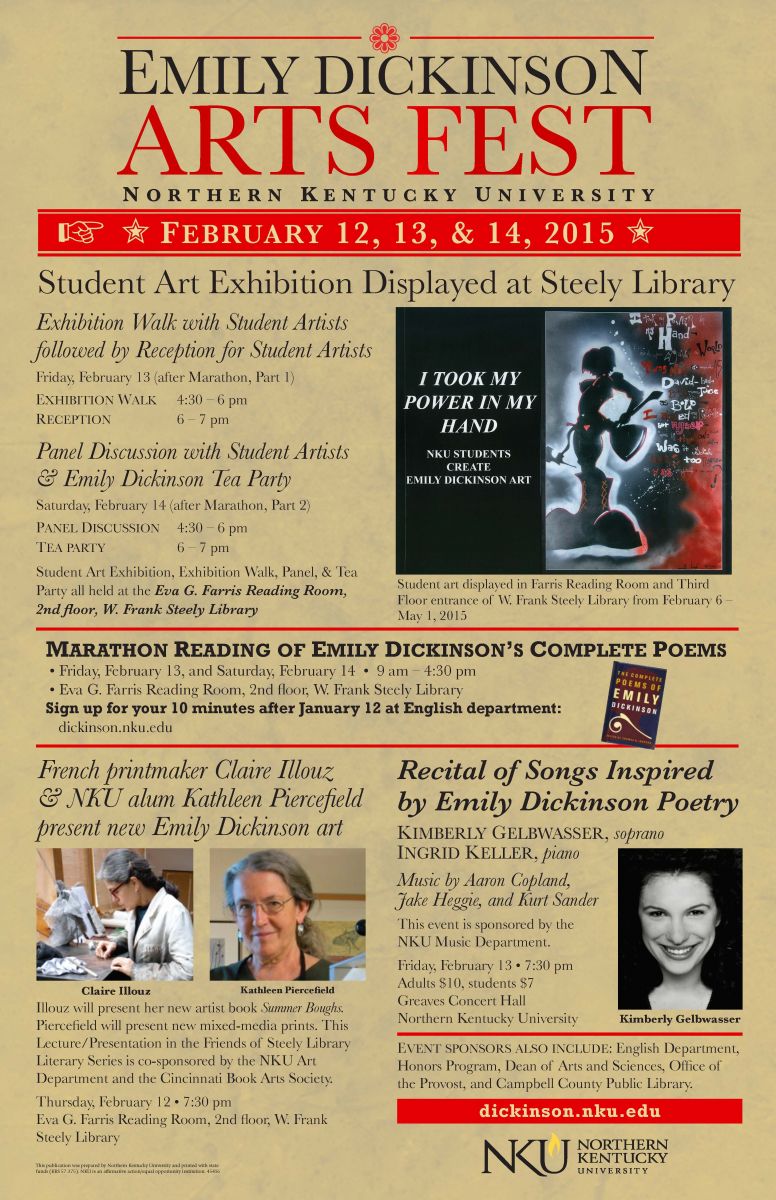 This blog is self-contained but it is not alone.  I created my first book-length blog, about my June 2014 voyage on the whale ship Charles W. Morgan, between April and August of 2014.  Conveying my preparation for, experience of, and processing of the voyage itself was the primary subject of that blog.  But several of its entries, especially in Part 2, "All Astir in May and June," document the work Emma Rose and I were already doing in planning the art exhibitions and catalogs for 2015.  (Use this link for Part 2 of the Whale Ship blog: https://mobyart.wordpress.com/2014/05/09/part-2-all-astir-in-may-and-june/). 
After I conclude the current blog with entries on my visit to Amherst and Arrowhead in early August 2015, I plan to begin a new blog whose working title is "Moby-Dick in Cincinnati in 2016."  Its primary purpose will be to describe the preparation and execution of two Moby-Dick exhibitions scheduled to open in Cincinnati in April 2016, a two-man show by Matt Kish and Robert Del Tredici at the Contemporary Arts Center, and an eight-woman show to open concurrently at the Marta Hewett Gallery.  This new blog, however, like its predecessors, will also extend my coverage of subjects in the previous blogs even though they are not directly related to the two new exhibitions.  I will be teaching a new course in Dickinson and the Arts during the 2015 Fall Semester, the first one in which I will be able to use the catalog that Emma Rose created this spring as a text.  I will also be devoting considerable time to the book I am writing about Frederick Douglass in Cincinnati in the 1850s.  These projects will weave themselves among my entries for the April 2016 exhibitions much as my preparations for the Dickinson and Moby-Dick exhibitions in 2015 wove themselves through my 2014 Whale Ship blog.
As I was discussing the posting of the present blog on the Dickinson Electronic Archives, Marta Werner suggested that I find a way to clarify the "intertextuality of the three blogs" by showing the degree to which each is both "discreet and interconnected."  In thinking through this issue, I am now viewing these three blogs as discrete eVoyages.  I greatly appreciate the opportunity to post this one (eVoyage2) on DEA2, and I hope before long we might have some interconnectivity with the Melville Electronic Library as well.   Should that happen, the connection between Emily and Herman in the title of this Intro would become more than parenthetical.
Cover art for 2015 Dickinson catalog by Brian Morris (left) and Camilla Asplen (right)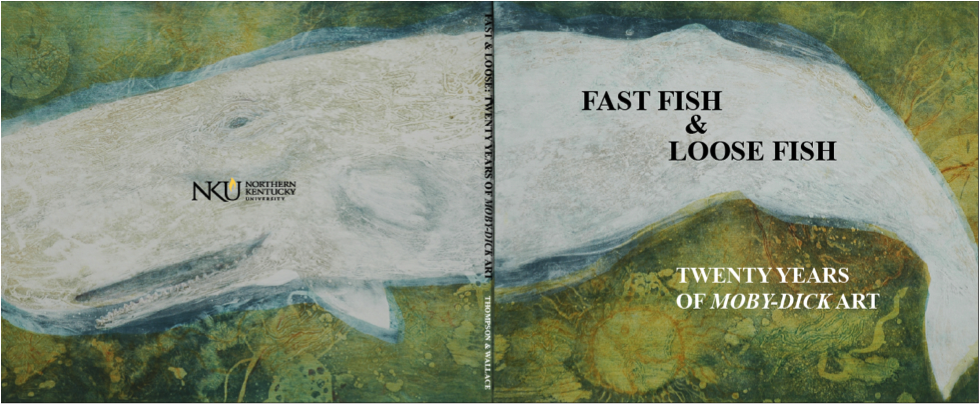 Cover art for 2015 Moby-Dick catalog by Kathleen Piercefield
In Emma Rose's introductory essay for our Moby-Dick catalog ("Words and Images Wedded Forever"), she noted that eight of my students whose artwork we selected for the Emily Dickinson exhibition had also created artwork we selected for the Moby-Dick exhibition.  One of these was Camilla Asplen, whose I took my Power in my Hand in 2001 was followed by A Whale as a Dish: a Cookbook for the Women of New Bedford in 2004.  Maybe these eight crossover students are helping to map out a new path of interconnectivity between the Arrowhead novelist and the Amherst poet.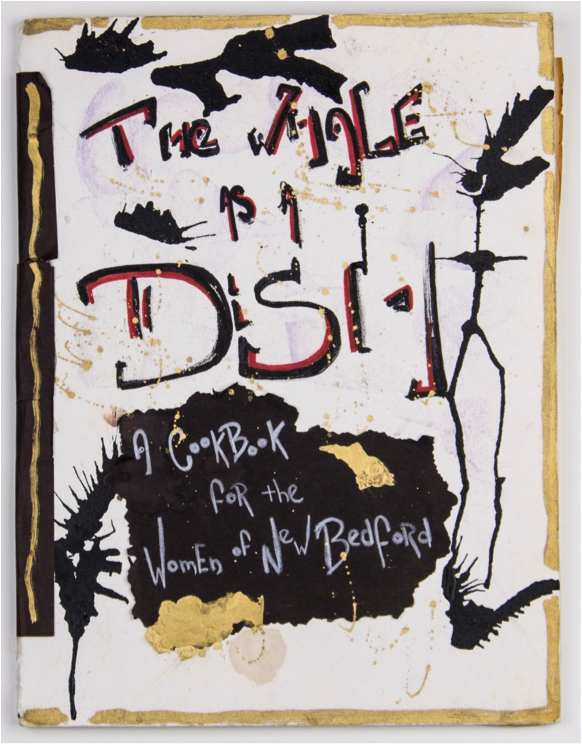 Camilla Asplen, The Whale as a Dish, final project for Moby-Dick and the Arts, 2004
The same might also be said for Claire Illouz and Kathleen Piercefield, the artists from France and Northern Kentucky who presented new Dickinson artwork at our Dickinson Arts Fest in February.  Each was an accomplished creator of Moby-Dick art who was creating Dickinson art for the first time.  Illouz, who had presented her brilliant Moby-Dick artist book The Whiteness at NKU in February 2011, presented her new Dickinson artist book Summer Boughs as part of our February 2015 Art Fest that is covered at length in the present blog.  Kathleen Piercefield, whose mixed-media print Moby Dick: a mighty mildness Emma Rose and I had chosen as the cover image for our 2015 Moby-Dick catalog, presented two new portrait prints of Emily Dickinson at our February 2015 Arts Fest, with one of which I will conclude this introduction.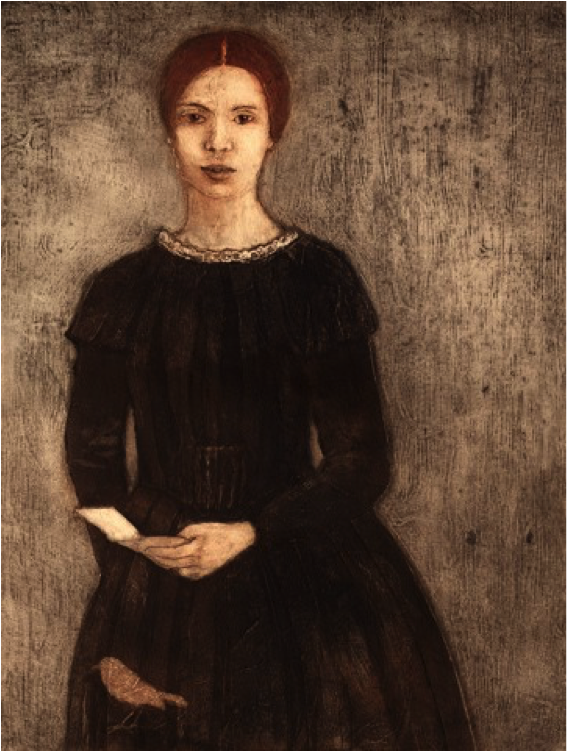 Kathleen Piercefield, Emily Dickinson in brown tones, 2015
Robert K. Wallace
Bellevue, Kentucky, July 30, 2015
Visit the Dickinson and Moby-Dick in 2015 blog project here.